Rugby League Record Keepers' Club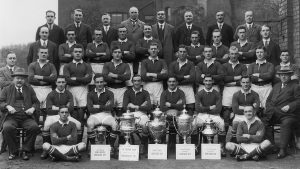 The Rugby League Record Keepers' Club (RKC) was originally founded in the 1970s by Irvin Saxton with a view to aligning records across rugby league by defining which games should be included in official statistics, and the group went on to record the teams and scorers for nearly every game at the top level of the sport in the UK from 1895-96 until 1993-94. At this point, the group wound-up having achieved its main aims and establishing the principles of record-keeping in rugby league that remain in place today.
During 2019 and into 2020 there were various discussions on social media about the merits of re-starting the RKC, and in April 2020 the group was officially re-launched to bring rugby league record-keeping into the 21st century.​
Below is a copy of the RKC Framework, which sets out what we are all about. For details of how to join, click here
​Rugby League Record Keepers' Club Framework
Vision
To create and share a comprehensive record of rugby league's history
Mission
We are dedicated to sharing an accurate statistical history of professional rugby league in the UK
Aims
Engage with the rugby league community to support our work.
Establish an electronic record of every first-grade match played under the Northern Rugby Football Union / Rugby Football League, including date, competition, result, venue, scorers and teams.
Create a record for every player to have played a first-grade match, to include their full name, date of birth, image and details of their playing career.
Develop a website to freely share our records.
Values
We are:
Collaborative: we recognise that our aims are only possible by involving people and organisations across the rugby league community.
Constructive: we work together positively, for the good of rugby league.
Sharing: we make available accurate information for everyone to enjoy.
Respectful: we give full recognition to those that contribute to our work and promote their projects/websites, and only use information with permission.