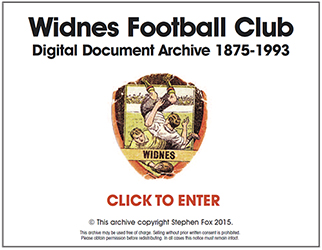 Widnes RLFC Archive
If you are a Widnes rugby fan, or just a rugby fan in general and you fancy catching up with almost four decades' worth of home match programmes, then there's a free download here for you.
Compiled by Steve Fox in 2015, it's a computer file, about 1.7GB in size, in PDF format (that can be opened by the free Adobe Acrobat Reader software).
There are over 8,000 images and it includes every page of every home programme from 1945-1993 and nearly every Annual Report over that period too.
There's also a selection of pre-war programmes and reports, though if any fans can help with supplying images of older items that aren't in this archive but could be included in future versions, then Steve would be delighted to hear from you at
sjpfox@hotmail.co.uk